You just realized you have a water leak in your Central Florida home or business, now what do you do? Whether you just received an abnormally high water bill, noticed mold in the drywall, loose tile in the bathroom, peeling paint, or a puddle outside when it hasn't been raining, you need to take action!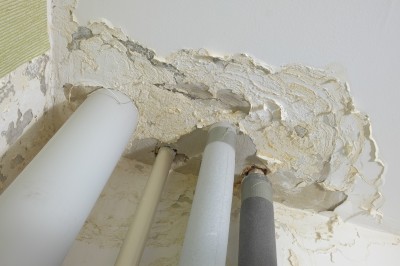 You may ask yourself, how much damage can a small water leak do anyway? Unfortunately, the damage can build up quickly, becoming significant and costly to repair. Needing to replace drywall, studs between the wall, rotting wood, mold and mildew growth, high cost of wasted water, the list goes on and on. Not only affecting your wallet, but also your health. The growth of mold and mildew can seriously take a toll on you and your family.
Water damage can be very misleading, sneaking into the smallest of crevasses and trapping pockets of saturation. Undetected dampness or moisture will continue to cause destruction. Often times this type of issue can only be sensed by sophisticated moisture detection equipment.
It is important to act quickly. The longer you wait the more damage is caused, the higher the cost of repairs.
Though you may be tempted to contact a plumber, they typically don't have the proper equipment to locate a water leak without tearing into walls or flooring.
The qualified professionals at the Leak Doctor take the guess work out of locating a water intrusion. We have the latest equipment and advanced technology to quickly solve your crisis. Specifically, trained in detecting even the smallest leaks.
Our services are accurate and non-invasive, saving you money in the total cost of repair and inconvenience of time spent digging up your property looking for the leak.
Water leaks can start as just a trickle, but progress quickly, the easiest and most cost-effective way of solving the problem is to contact the Leak Doctor . We are here to help you with all your water leak issues.
Contact the Leak Doctor for more information and to make an appointment.