Leak Detection Testimonials
"The technician was a lot of help and helped identify my problem. I was a little embarrassed that neither my sprinkler contractor nor I had not seen the issue before. Service was prompt, professional, and helpful."

- Garry R.
---
"Excellent! He found the leak that we have been searching for days in less than an hour! It turned out to be under the garage."

- Garth S.
---
"I was very impressed at how quickly he found the leak. It was worth the cost."

- Renee L.
---
"Absolutely astounding service!"

- F.L.A.
---
"Very professional & was the only repair person to cover his shoes when coming in the house. I really appreciated that."

- Rose G.
---
"Have used a couple of times-- most recently for a very small under slab leak. He didn't give up until he found and fixed. Have been well pleased."

- Roger T.
---
"Very pleased. The tech was very informative as to what he was doing. Extremely impressed how quickly he found the leak. Our water bill was $180.00 and after the repair it went back down to $20.00 where it was normally. Thanks again."

- Richard S.
---
"Very professional and got the job done quickly. saved me a lot of money by fixing the issue."

- Marvin N.
---
"I was mightily impressed. Service technician was a genius!"

- Julie W.
---
"I was deeply impressed with the friendliness, professionalism and patient care shown by the Leak Doctor. We had a "hidden" leak, which took several hours to determine, and then he stayed another two hours to repair it…I am very pleased with the completion of the activity. I shall recommend the Leak Doctor to all my friends."

- Paul R.
---
"Wonderful! Thank you so much for coming all the way to The Villages to inspect for leaks! Your technician was very thorough and assured me that our water lines were okay with no leaks at the time of his inspection. How relieved I felt to know that our water lines were in great shape! Thanks for such prompt, excellent service!"

- Larry B.
---
"The service was prompt and thorough. The technician was friendly and offered me a lot of information about what he was doing. I couldn't have asked for a better experience."

- Amanda P.
---
"The Leak Doctor rep was very personable, professional and on time. I was very impressed. Thank you."

- William D.
---
"I would certainly recommend Leak Doctor to friends and family. The tech that serviced my home was Josue. He was extremely knowledgeable, professional and provided outstanding customer service. Explained everything to me and returned to my home the next day to answer further questions I had. Great job!"

- Norma F.
---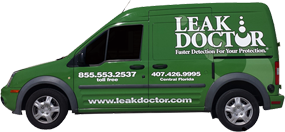 The Leak Doctor can find your leak and fix it fast!
Call us today at (407) 426-9995 or use our quick and easy contact form to schedule your inspection. We service Orlando, The Villages, Tampa, Daytona Beach, Winter Park, and the surrounding Central Florida area.