Choosing a service that provides both the latest technology in water leak detection and a licensed plumbing specialist is saving Orlando, Florida and Atlanta, Georgia residents time and money. Not to mention taking the stress and frustration out a terrible situation. That's why so many people are choosing the Leak Doctor.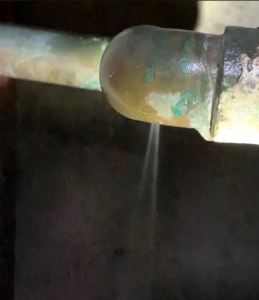 Even a pinhole water leak in a plumbing pipe can waste a significant amount of water and causes costly property damage. Isolating a leak in your home without the search and destroy method, needless digging or breaking into walls can save consumers thousands!
To avoid damage to your residential home or commercial business, ensure the water leak detection service you choose not only has state of the art leak detection equipment, but also has properly trained technicians.
Resources and experience to locate your water leak quickly and non-invasively will save you money
With over 25 years of experience, the Leak Doctor can locate your water leak and minimize the damage by pinpointing the problem before excavation. We use cutting edge technology, combined with state of the art equipment and techniques developed in-house, as well as the best training available to locate your water leak.
Ensure the leak detection service is committed to providing responsive service and explaining the detection and repair process every step of the way.
The Leak Doctor is well established and has a reputation of being one of the best in the industry. We became this way because we care about our clients and the service we provide. We are proud of the work we do and stand behind every job we perform.
Water leaks can be frustrating and cause extensive damage to your home or business. The Leak Doctor is able to locate the source of the water leak with minimal disruption.
We pride ourselves in using only the latest technology, our expert technicians are courteous, professional and offer affordable and effective leak detection services, saving you time and money. We are available 24 hours a day, 7 days a week for emergencies.
The Leak Doctor offers advanced technology, including frequency sensitive computers, specialized listening equipment, ground probes and other modern electronic devices to find water leaks. We have cost-effective ways to find the source of your leak and quickly fix it.