Orlando plumbing leaks are on the rise due to corrosion and aging water pipes. These leaks can go undetected for weeks or even months by the home or business owner. By this time there is typically significant damage done to the building.
If you suspect a plumbing leak it is important to have it repaired, but you may not know exactly where it is located. Whether you received a higher than normal water bill, noticed warm areas on the flooring, the water meter is still running when everything is turned off, or have unexplained mold, detecting even the smallest of water leaks is vital.
Randomly digging holes around your property isn't exactly cost or time effective. This is where non-invasive water leak detection comes into play.
When water leaves a pipe it creates a distinctive noise, not typically a loud sound. So, depending on where the pipes are located, the noise may not be heard.
Large water leaks produces a sound with a lower frequency, while a small water leak has a higher frequency.
Ultrasound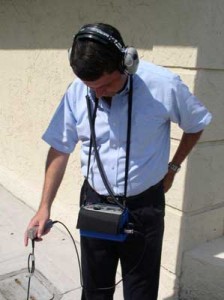 Specially designed with an acoustic sensor and an advanced signal processing, acoustic leak detection can accurately detect these frequencies in any type of pipe material.
Endoscopic Video
Our video inspection equipment allows us to see inside your plumbing system to detect unexplained blockages and cracks in plumbing, which are the most common sources of leaks. While other plumbers may resort to tearing out sections of your home's walls, we can pinpoint these blockages and cracks from the surface to prevent unnecessary damage to your home.
Thermography
We utilize state-of-the-art thermography, which is similar to a color infrared photograph. With it, we can identify tiny temperature differences that can lead us to leaks.
This advanced leak detection technology identifies the source of a leak, no matter where it is located, without breaking into walls or digging up the flooring.
Having a water leak can be very stressful, with hundreds of contractors on the market, it can be difficult to choose the right one. Here are some more helpful tips to ensure you don't get taken.
Do you know who is coming to your home or business?
Will they be in an identifiable truck and uniform shirt? Will they come with all the equipment they need or will they have to return for another appointment?
Do they provide emergency services?
Let's face it, realizing you have a water leak probably won't happen during regular business hours. The longer a water leak is allowed to go on without being repaired, the more damage it causes. Mold takes less than 24 hours to start growing, especially in our tropical environment. Does the company have 24 hour emergency services? After hours, holidays, and weekends?
While you may be able to get a less expensive quote, but it may mean a compromise in quality and know how.
Doing your homework to find a qualified plumber is worth the effort.
With over 20 years of experience, the Leak Doctor provides fast and non-invasive leak detection and repair services for residential properties throughout Central Florida. Our experienced technicians use advanced technology to quickly identify the source of your leak. As licensed plumbers, we have the training, skills, and tools needed to repair your leak on the spot.