Have you ever heard the sound of water running when there isn't anything on, washing machine, shower, or sink? Have you ever felt a warm spot on your floor? Have a higher than usual water bill? Find moisture or mildew on the carpet? Water coming from between tiles? If you've experienced any of these, you may have a slab leak.
What is a slab leak?
Most home in Florida are built are concrete slabs, between the ground and your home. Over time, the pipes beneath the concrete develop leaks. This is known as a slab leak.
How can you find a slab leak?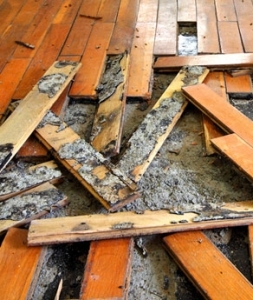 To find the leak yourself, you would have to dig into the slab itself. Using the very expensive, hit and miss method. Instead, the Leak Doctor has invested in the latest non-invasive water leak detection equipment, able to find the smallest leak, even under a concrete slab.
You have a water leak, now what?
After the experienced Leak Doctor technician locates the water leak, they will present you with a few cost effective repair options.
How can you avoid a slab leak?
Unfortunately, there are quite a few reasons why a slab leak can happen, which means they are not 100% avoidable. Even if you are careful with your pipes, over time they can succumb to corrosion and leak.
There are a few ways you help prevent future leaks. Be careful of drain cleaners. They can be very destructive to the inside of your pipes, causing leaks in the future.
The pH of your water also plays a part, to high (hard water) or too low (soft water) can damage the inside of the pipes, leading to leaks.
Water pressure is another thing to watch out for, if it is too high it is stressful on the pipes. Causing corrosion and leaks.
Save in the Long Run
Simple leaks can quickly turn into costly problems, often times we don't notice the problem until it's too late. It's important to stay up to date and vigilant with your homes or business maintenance.
Don't wait for the leak to get worse, contact the professionals at Leak Doctor today. We put our customers first and provide emergency services.