Effective Leak Detection and Repair to Orlando and Central Florida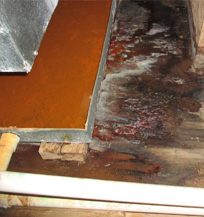 Leak Detection
As a homeowner, have you noticed that your water bill has gone up since last month, or have you spotted a water puddle on your floor? Are you concerned that your home may be in danger from a leak, but you're not sure what is going on or where the water is coming from?
Leak Doctor can quickly determine whether or not you actually have a leak, where your leak is, and provide professional repairs as a licensed plumber. When you contact Leak Doctor, we will come out as quickly as possible, 24 hours a day, 7 days a week to ensure that the damage to your property is minimized.
Common Signs of a Leak:
Wet carpet
Water puddle
Wet spot on walls or ceiling
The sound of water running, but without visible signs of water
Unexplained high water bill
---

If you have noticed any of the above warning signs, it's important to detect the source of the problem as soon as possible. Water leaks can cause significant damage to your home and can quickly worsen if not repaired.
How Do We Find Leaks So Fast?
Your leak will be located using a combination of several electronic leak detectors. Leak Doctor uses cutting edge technology that combines equipment and techniques developed in-house, as well as the best training available. Equally important is the experience of our technicians, who receive continuous hands-on training at our state-of-the-art training facility.
---
Our Advanced Technology:
Ultrasound: Our technicians are trained to utilize the most advanced digital ultrasonic inspection system. Leak Doctor's sensitive ultrasound devices can "listen" at a frequency beyond the human range of hearing. To our instruments, even the tiniest leak makes a traceable noise.
Endoscopic Video: Our video inspection equipment allows us to see inside your plumbing system to detect unexplained blockages and cracks in plumbing, which are the most common sources of leaks. While other plumbers may resort to tearing out sections of your home's walls, we can pinpoint these blockages and cracks from the surface to prevent unnecessary damage to your home.
Thermography*: We utilize state-of-the-art thermography, which is similar to a color infrared photograph. With it, we can identify tiny temperature differences that can lead us to leaks.
*Only available in FL
---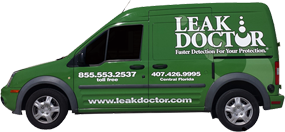 The Leak Doctor can find your leak and fix it fast!
Call us today at (407) 426-9995 or use our quick and easy contact form to schedule your inspection. We service Orlando, The Villages, Tampa, Daytona Beach, Winter Park, and the surrounding Central Florida area.