Do you know if the damages caused by the leak behind the kitchen sink are covered by your insurance? If you think you are covered, you may want to think again!
That slow drip that you never even noticed until a stain on the drywall may end up costing you big. Cast iron pipes are another concern for homeowners in Central Florida and Atlanta area.
How can a home or business owner avoid paying for these costly damages?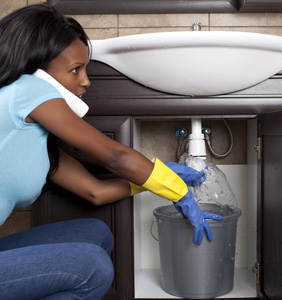 Be Mindful
The easiest way to save money is to actively look for potential water leaks. Be on the look out for higher than normal water bills, inspect any exposed pipes, listen for the sound of water when all appliances are turned off, warm areas on the flooring, unusual puddles in the yard, stains on the walls, a musty odor, and mold.
If you notice any of these signs, take action. The Environmental Protection Agency recommends home and business owners to take a step further by taking these steps:
A good method to check for leaks is to examine your winter water usage. It's likely that a family of four has a serious leak problem if its winter water use exceeds 12,000 gallons per month.
Check your water meter before and after a two-hour period when no water is being used. If the meter does not read exactly the same, you probably have a leak.
One way to find out if you have a toilet leak is to place a drop of food coloring in the toilet tank. If the color shows up in the bowl within 10 minutes without flushing, you have a leak. Make sure to flush immediately after this experiment to avoid staining the tank.
Leaky faucets can be fixed by checking faucet washers and gaskets for wear and replacing them if necessary.
If your toilet is leaking, the cause is often an old, faulty toilet flapper. Over time, this inexpensive rubber part decays, or minerals build up on it. It's usually best to replace the whole rubber flapper—a relatively easy, inexpensive do-it-yourself project that pays for itself in no time.
Check your garden hose for leaks at its connection to the spigot. If it leaks while you run your hose, replace the nylon or rubber hose washer and ensure a tight connection to the spigot using pipe tape and a wrench.
If you suspect your home or business has a water leak take action!
If you cannot locate the water leak, contact the professionals at the Leak Doctor. Locating the leak without digging up the floor or breaking into walls will end up saving you more money than you realize.