When the plumbing starts leaking water below a concrete foundation, it is called a slab leak. It is not always easy for a homeowner or property manager to realize they have a slab leak. Out of sight, out of mind. But ignoring a slab leak can lead to costly repairs and even dangerous conditions.
There are a variety of reasons why slab leaks occur. The most common culprits are corrosion and ground movement. Corrosion, from the pH and chemicals in the water causes small pinhole in the pipes. Any type of settling or shifting in the soil can cause pipes to crack and even break.
Slab leaks can be especially difficult to detect. It takes advanced equipment and experienced technicians to ensure the source of the leak is detected. The last thing you want is to dig up the floor and find out that's not where the leak was located.
Why Choose The Leak Doctor?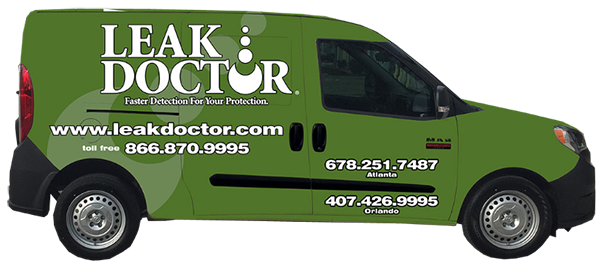 Choosing the right company can make all the difference. The Leak Doctor takes pride in working with both commercial and residential clients. Our state of the art equipment means easy and effective detection and less destruction, which can save you tons of money, time, and water. Our pinpoint accuracy gives you piece of mind there won't be any unnecessary property damage.
We understand water leaks don't always happen at a convenient time, which is why we have emergency services. Licensed and insured, you can count on our solid reputation.
Upfront Pricing: The Leak Doctor doesn't have any hidden charges. We take pride in offering realistic estimates, we give our customers the best quality and affordable prices. We have state of the art equipment and expert technicians to detect and repair any water leak.
Availability: The Leak Doctor is available 24 hours, 7 days a week for any emergency, nothing is too small or big for our wide range of services.
Family Friendly: The Leak Doctor is a family who understands busy schedules and accommodate your needs.
Don't Miss The Signs Of A Slab Leak
Unusual wet areas or pooling water in the yard, landscaping, or swimming pool area.
An area on the property that is greener than the rest or an area that is brown and dry.
A noticeable drop in water pressure
Cracking, potholes, or depressions in the pavement or concrete foundation.
The building appears to be leaning or has an uneven flooring.
Unexplained increase in your water bill.
The should of running water, whooshing, splashing or a babbling brook, when all the water in the home is turned off