It just takes a small water leak, under a concrete slab, under a sink, behind a wall, even under the oak tree in the front yard, to create big trouble.
Water leaks often happen without anyone noticing, quickly, and they are typically an expensive repair. Ignoring it just makes it worse and you will be lucky if your insurance company helps bail you out.
Most home insurance policies don't cover damage relate to neglected maintenance or normal wear and tear.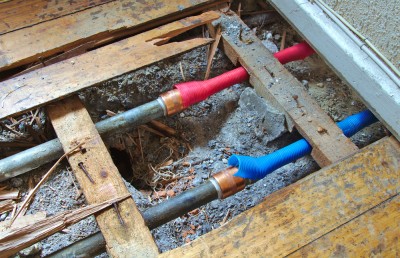 According to the Insurance Information Institute, the repairs for average water damage claim cost $11,000. This includes mold remediation and clean-up. Given the environmental conditions in Central Florida and Atlanta, mold is able to thrive very quickly.
Today's homes are built more efficiently for conserving energy, but it makes it even harder to find a hidden water leak. Modern homes also have more bathrooms and laundry machines on the upper floor or next to the master bedroom. This all adds up to more plumbing pipes.
As a home or business owners, it is important to keep up with routine maintenance. Benjamin Franklin once said, "An ounce of prevention is worth a pound of cure."
There are many reasons why pipes leak, many of them have to do with the age of the pipes, nothing lasts forever! Then there is also, every day wear and tear, debris such as hair and grease can cause damage, water pressure, chemical in the water, soil conditions, and fixtures break down. The simple fact is, all pipes are susceptible to water leaks, whether you have an older home or new construction.
You may have noticed a higher than normal water bill, a drop in water pressure, discolored or odd tasting water, spots on the walls or ceiling, warm spots on the floor, mold, or wet areas in the yard when it hasn't been raining.
Leak Doctor's winning combination of commitment to exceptional customer service, state of the art technology, experienced and highly trained technicians ensures the best possible results and outstanding customer service. We have cost-effective ways to find the source of your leak and quickly fix it.
If you suspect a water leak in your residential home or business, contact the Leak Doctor for an appointment.