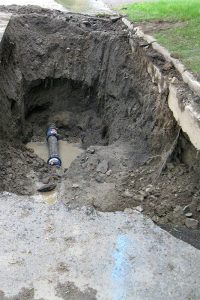 Water leaks can occur in all types of plumbing material, all types of plastic, copper, iron, and galvanized steel. They can also happen anywhere pipes are installed, above or below the ground, or inside or outside your home.
Accurately pinpointing the location of a water leak with advanced technology can save tons of money and frustration. Outdated hit or miss efforts in locating a leak is ineffective and often results in significant property damage.
According to the Florida Public Service Commission,"Leaky faucets are common and can increase a utility bill. It is important to have leaks repaired because the customer, not the utility company, is responsible for any leaks on the customer's side of the water meter. If the leak is on the customer's side of the meter, the customer can be billed for the consumption of the water and any other related wastewater charges. The company is under no obligation to show how the water was consumed once it has passed through the meter. The company is obligated to make sure the meter is working correctly and that accurate readings are being taken."
The Leak Doctor has a proven track record in finding the source of the most difficult leaks. We are committed to superior customer service and satisfaction.
We identify and locate the source of your leak quickly and cost effectively by utilizes a variety of the latest scientific electronic leak detection equipment with various sensitivity level to locate leaks in plumbing whether the leak is underground, under concrete slabs or asphalt, behind walls, or under the second story bathroom. Equally important is the experience of our technicians. Our technicians receive continuous hands on education at our state-of-the-art training facility.
The Leak Doctor's mission is to bring you the best water leak solution possible. We are committed to finding your leak, repairing it and restoring your property the way it was when we arrived.
Contact the Leak Doctor today before 'today's little leaks become tomorrow's big emergencies'.