We protect our home from theft, fire, and damaging storms. Few people realize the big threat luring on their property is easily overlooked, water leaks!
Water enters our home through pipes and flows into the bathrooms, laundry room, kitchen, hot water heater, and even to the irrigation system. Though many feel it is a low risk, according to the Insurance Information Institute, water damage is the second highest cause of homeowner insurance losses. In fact, the losses are more costly than theft and vandalism, with each claim costing just under $8,000 on average.
Every year over 2.5 million homeowners have some type of water damage.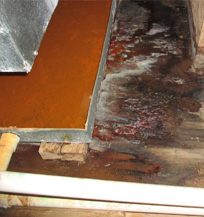 "Consider the fact that just half of all homeowners check appliance hoses (52%) and conduct water heater maintenance (51%). Even more concerning is that when it comes to hiring someone to inspect appliances, a quarter of all homeowners have never had their appliances inspected and 21% have not done so in more than three years. When these appliances and their related plumbing and hoses fail, claims range from 50% to 80% higher than a typical water damage loss," according to Chubb Homeowners' Water Risk Survey, Homeowners' attitude toward home protection, and what they're overlooking.
Statistics from the Insurance Institute for Business & Home Safety
Plumbing supply system failures are the leading source of residential water losses, with 48% greater losses (in terms of total payouts) than the second leading source.
Of the claims analyzed, 22% of all supply system material failures occurred beneath the slab of homes without basements.
If you suspect you home or business has a water leak or want to take a proactive step by having your appliances inspected, contact the Leak Doctor. It is an easy way to save money and tons of frustration!
Happy Thanksgiving From The Leak Doctor
Thanksgiving is a time of festive spirit, mouth watering meals and renewing ties with family and friends. It's a great time to take a break from the hustle and bustle of life and reflect on what we're thankful for.
The family at the Leak Doctor would like to take this opportunity to thank all of our friends and clients for their support!