Checking for water leaks in your plumbing system may not sound like a lot of fun, but it can definitely save you money, as well as a lot of frustration.
Don't worry, it doesn't take long to check for water leaks in your home (it is a lot easier than you think) and many can be easily fixed. Check out the EPA's 10 minute check list. They even have some fun games for kids (and adults) so they can get involved.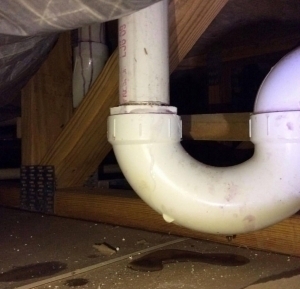 The Water Leak May Not Be Very Big
Some water leaks are hard to find simply because they are small. In order to figure out if there is a water leak, keep an eye on the utility bills. If there is a water leak, water is leaking out on a constant basis. This should be reflected by a rising utility bill. Therefore, people should look at their utility bills regularly and try to find an unexplained rise in water usage. If this is rising, there is a leak somewhere in the home.
Look For Common Culprits First
There are a few appliances that tend to generate water leaks more often than others. For example, check the faucets in the home for any dripping. This is one of the most common plumbing problems that people have to deal with. Then, look and see if the toilets are constantly running. This could be a sign that the flapper is broken or that there is a separate issue in the wall. Furthermore, don't forget to check the refrigerator. The ice and water has to come from somewhere. There might be a leak.
Stains Can Start To Appear
If water is leaking, stains might start to show up on the floor or on the ceiling. If a stain is present, a leak is definitely nearby. Watch out for stains because these can lead to property damage as well.
A few other clues include moisture or mold on walls or ceilings, a musty odor, the sound of running water when appliances are turned off, warm areas on the floor, cracked tiles, blistering paint, and peeling wallpaper.
Check Your Water Meter
Make sure all the water is off inside and outside your home and check your water meter. It should not be registering. Ensure all the water stays off for about two hours and check back with the meter, if reads something different, you probably have a water leak.
Put Your Toilet to the Test
Place a couple of drops of food coloring into the tank of the toilet, check back in 10 minutes. If the food color has seeped into the bowl, it can indicate a leak. It may just take replacing a flapper to save thousands of gallons of water.
If you suspect your home or business has a water leak, contact the Leak Doctor.