Identifying water leaks isn't always easy, most of the plumbing is located behind the scenes. In last week's blog we listed some ways to find sneaky leaks.
Your water meter is a valuable tool, it can identify if your home has a water leak. "How To: Find a Plumbing Leak", from Bob Villa, describes how to check your water meter.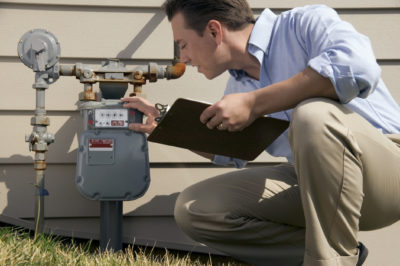 If you suspect a leak, monitoring your home's water meter will give you a definitive answer. The meter is often located beneath a manhole-type cover near the street or (in areas where temperatures don't dip below freezing) on the side or back of the house, near to where the water supply line enters the house. Follow these steps to monitor the meter:
Turn off all water faucets in your home and make sure the washing machine and dishwasher are not running.
Check the water meter and make a note of the numbers you see. Come back in an hour and check again. If the numbers have changed, there's a leak somewhere.
To determine if the water leak is in the house or outdoors (only for homes with meters located at the street), turn off the shut-off valve on your home's main water supply pipe. This is either located in a basement or a utility room where the water pipe enters the home.
Check the water meter, write down the numbers, and wait another hour. When you check again, if the numbers have not changed, the water leak is inside your home. If the numbers have changed, the leak is in the buried water line that runs to the house.
Locating the Water Leak
Water leaks aren't always easy to locate, that's why some many home and business owners rely on the the Leak Doctor advanced technology. This includes frequency sensitive computers, specialized listening equipment, ground probes and other state-of-the-art electronic devices to detect any water leak. We have cost-effective ways to find the source of your leak and quickly fix it.