The heavy rains left behind by Hurricane Irma can wreak havoc on your plumbing system. In fact, they can put a lot of stress on your drainage pipes. Many of our customers are finding themselves plagued with a host of problems in the aftermath of the storm. It is important to be vigilant and be on the look out for these problems.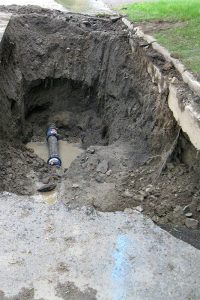 After heavy rainfall and strong storms, like hurricane Irma, there is a lot of pressure put on underground pipes, they can cause the ground to shift, which in turn ruptures pipes.
When soil becomes over saturated with rain water, it can cause the rocks and soil to move, straining pipes and causing them to leak.
High winds can cause trees and roots to shift, which can also affect the plumbing system. The problem is only compounded when dirt and debris enter the pipes, causing even more damage. Be on the look out for discolored or dirt in the water.
An underground water leak can cause more problems than you can imagine.
If left untreated, these types of leaks can compromise the integrity of the foundation and eventually your home or business, not to mention the health issues it can cause from the mold and mildew.
They can also be difficult to locate. Symptoms may include a noticeable high water bill, a sudden drop in water pressure, damp floors, constant hissing or the sound of running water, cracks in the foundation, unexplained wet areas in the yard, and mold in the walls.
Trying to locate the leak yourself can cost more than hiring a professional. Cutting holes in the drywall or digging up your yard to find a water leak can be like finding a needle in a haystack.
There is no doubt a slab leak can cause significant property damage and health issues, which is why professional leak detection may be necessary. At the Leak Doctor we use the latest technology in electronic equipment to save you time and money without the destruction and mess of ripping up the foundation or tearing into walls.