Unfortunately, as pipes age in Central Florida they fall victim to rust, corrosion, pinhole leaks and breakage. Corrosion occurs when acids found in water produce pits in the pipes, which eventually turn into pinhole size leaks. Unfortunately corrosion and pinhole leaks can go unnoticed and cause significant damage. Slow dripping water between walls and under concrete slabs can make the perfect environment for bacteria, mildew and mold to grow. Eventually, it can even lead to discolored water, low water pressure and even loss of insurance.
Slab leaks are a growing problem in Florida, they can happen to any property, whether it is new or older. It can be poor installation, the result of animals, soil compaction or shifting.
If you notice any of these signs, it is time to contact the professionals at the Leak Doctor
Warm Places on t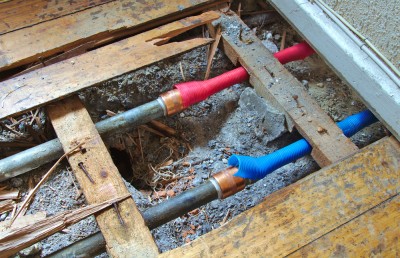 he Floor
If you notice a warm spot on the flooring it may be coming from a leak in the hot water line. If you have linoleum or carpet this may be easy to detect. Tile floors are not as easy, they are not usually noticed until the water flows between the adhesive and the tiles.
Sound of Running Water
The sound of water dripping or running can be difficult to hear, especially if it is underneath a concrete slab foundation. Depending where the leak is located subtle sounds of water can be heard and can indicate a leak.
Wet or Damp Spots on the Walls or Floors
Warm areas on the floor can occur when the hot water pipe has a leak. While leaks in cold water pipe are more difficult to notice, you may also feel wet or moist area on the flooring.
Low Water Pressure
Whether it is sporadic or constant, low water pressure can indicate a water leak. Check to see if all the faucets and shower heads all have the same water pressure or only certain areas of your home.
Foundation Lifting
If a leak has continued for a significant time under your home's foundation it can swell and even lift the building, this is called heaving. The damage can manifest as cracks in the slab as well as in the exterior and interior walls. The damage can sometimes be irreparable and needs the attention of a professional who knows what to look for.
A Sudden Increase in the Water Bill
If you notice a spike in your utility bill without and extra water use, usually an indication of a water leak. If you're not able to locate the source, is in your best interest to invest in a professional leak detection service.
Orlando's Leak Doctor is able to locate the source of the water leak with minimal disruption. We pride ourselves in using only the latest technology, our expert technicians are courteous, professional and offer affordable and effective leak detection services, saving you time and money. We are available 24 hours a day, 7 days a week for emergencies.
If you suspect a water leak in your home or business, contact the professionals at the Leak Doctor