Reading verified reviews is a great way to get a sense of how a company treats their customers and the value of their services.
The Leak Doctor understands how frustrating it is to have any type of water leak. Which is why we strive to make the experience as easy as possible.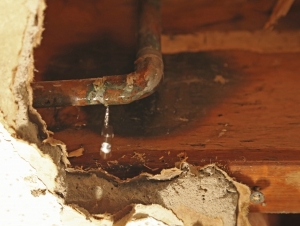 Whether your water leak is above or below ground, we will find it without damaging your property or disrupting your business. The Leak Doctor specializes in finding difficult leaks in plumbing and irrigation systems for residential and light commercial properties.
Our philosophy is simple, by applying the latest in leak detection technologies with the best technicians, enable us to address our customers' needs for reliable leak detection that is cost effective. Water leak detection for the Orlando area is our specialty.
I found a puddle of water on Sunday. Called Leak doctor on Sunday late afternoon. Steve came out on Monday, located the leak within 30 minutes.
He returned the next day and had to jackhammer the tiles(very tidily) and it was EXACTLY where he said it was. It took all of two hours to do a complicated job around a kitchen island. Before he sealed up the hole he showed me everything and showed me that the outside water dial was no longer spinning. Very thorough and respectful of the fact that I was female and not 'in the know ' of all the plumbing works etc.
Steve was mannerly, informative, offered exemplary service, cleaned up after himself and overall an absolute great guy = Brilliant
If there were 10 stars I would mark all of them.
I HIGHLY recommend Leak Doctors. For the price the charge it totally matches the service they give.
Leak Doctor helped us big time and they were professional, courteous, and helpful throughout.
They helped us find an old leak that'd been ongoing for so many years, we were accustomed to paying it. Water bill should drop by more than half!! Thanks Leak Doctor!!! AAA+++
On June 3rd, at the recommendation of my plumber, I contacted Leak Doctor. I can't say enough great things about David Delgado! I made the call at 8:23am and by 9:40am David was here. He was very thorough in detecting the hot water slab leak I had. The leak was EXACTLY where he marked it to be. He was very friendly and informative on my options. David, thank you so much for the superior service!
Dave with Leak Dr was friendly & professional and found my issue in minutes. There was a small hole in the seem of our stucco that I never would have thought was the issue.
He sprayed a garden hose at it and sure enough water came in. This was a HUGE relief because we were starting to think it was something much worse and much more expensive. Since they charge a flat rate and really aren't doing the work to fix the issue I felt assured they weren't trying to up charge me or make me feel like it was something worse then it was for the extra business. They found the issue and gave us specific steps to correct it. I will use them in the future for any water issue. Highly recommend.