Everyone knows a water leak can be destructive! But they can also be very sneaky and difficult to detect, hiding between walls, under a concrete slab, and under the old tree in the front yard.
Pipes don't last forever, over time they succumb to corrosion, age from natural wear and tear, and develop pinhole leaks from chemicals in the water, and about a dozen other reasons.
But when a home or business owner finally realizes there is a water leak somewhere on their property, they have a few questions. First, how are they going to locate the leak and second, how much is it going to cost.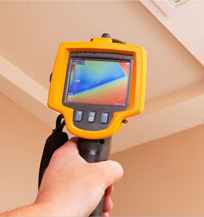 The Leak Doctor provides fast and non-invasive leak detection and repair services.
Our experienced technicians use advanced technology to quickly identify the source of your leak. As licensed plumbers, we have the training, skills, and tools needed to repair your leak on the spot. The Leak Doctor also offers the most cost effective solutions to plumbing leaks.
The Leak Doctor is committed to providing responsive service for every aspect of your leak problem.
We will explain our leak detection and repair process to you every step of the way.
We offer the most cost-effective, real-time solutions to your leak problems.
We check your plumbing system and make the correct diagnosis for your leak problem.
We use state-of-the-art equipment to avoid any damage to your property.
The Leak Doctor's technicians are courteous, professional and offer affordable and effective leak detection services, saving you time and money. We are available 24 hours a day, 7 days a week for emergencies.