Don't let another day go by without taking care of your plumbing pipes. Water leaks are responsible for millions of dollars in damages.
Undetected water leaks can happen without anyone even realizing. Just a small pinhole leak, continuously flowing for days, months or even years wreak havoc on a property.
The team of experts at the Leak Doctor use the latest technology to locate the tiniest of water leaks without digging into floors or walls. This can save a ton of money in repairs that most insurance companies won't cover.
Why Do Pipes Leak?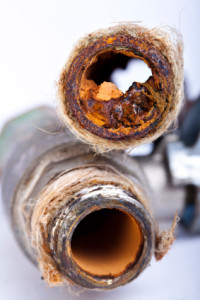 There are many reasons why pipes leak, every day wear and tear, debris such as hair and grease can cause damage, water pressure, chemical in the water, soil conditions, and fixtures break down. The simple fact is, all pipes are susceptible to water leaks, whether you have an older home or new construction.
Preventing water leak is as easy as scheduling a routine inspection with the Leak Doctor. The earlier you catch a leak the less damage it will do, "An ounce of prevention is worth a pound of cure."
It doesn't take long to check for water leaks in your home and many can be easily fixed. Check out the EPA's 10 minute check list. They even have some fun games for kids (and adults) so they can get involved.
Start Looking For Your Water Leak By Gathering Clues
The easiest place to start is with your utility bill. The average family of four uses approximately 12,000 gallons of water a month or 3,000 gallons per person. If your bill is higher than it should be, you probably have a water leak. Also, look for spikes in your bill. Learn more about your utility bill at the EPA website.
Check Your Water Meter
Make sure all the water is off inside and outside your home and check your water meter. It should not be registering. Ensure all the water stays off for about two hours and check back with the meter, if reads something different, you probably have a water leak.
Put Your Toilet to the Test
Place a couple of drops of food coloring into the tank of the toilet, check back in 10 minutes. If the food color has seeped into the bowl, it can indicate a leak. It may just take replacing a flapper to save thousands of gallons of water.
A few other clues include moisture or mold on walls or ceilings, a musty odor, the sound of running water when appliances are turned off, warm areas on the floor, cracked tiles, blistering paint, and peeling wallpaper.
How Much Water Do We Really Use?
According to research by the American Water Works Association, we use 16.8% in the shower, 15.7% by faucets, 21.7% washing cloths, 26.7% toilets, 13.7% in water leaks, and 5.3% other.
Locating Your Water Leak
The Leak Doctor has been locating even the most difficult water leaks for decades, without damaging property.
If you suspect a water leak in your residential home or business, contact the Leak Doctor for an appointment.