When it comes to plumbing repairs, slab leaks can be the most damaging. As a home or business owner it is important to be proactive. How to avoid them and how to detect a slab leak if you have one.
What Can Cause A Slab Leak?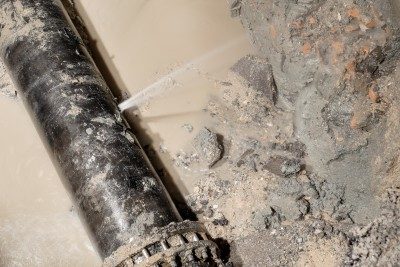 Realizing you have a slab leak can be very frustrating. Whether it is a slow drip or progressive flow in a pipe under a concrete slab. The repercussions can be huge. Not only extensive damage to the building, but it can also create a host of health issues. There are several factors that lead to slab leaks. Faulty pipe installation, high water pressure, corrosion, age of the pipes, animals, trees, and many others.
Pinpointing a Slab Leak; Look For These Warning Signs
Warm places on the floor. If you notice a warm or wet areas on the flooring it may be coming from a leak in the hot water line. If you have linoleum or carpet this may be easy to detect. Tile floors are not as easy, they are not usually noticed until the water flows between the adhesive and the tiles.
Raised Flooring. If the water leak has gone on for a long time and is severe you may detect warping or a raised 'dome' in the flooring.
Foundation Lifting. If a leak has continued for a significant time under your home's foundation it can swell and even lift the building, this is called heaving. The damage can manifest as cracks in the slab as well as in the exterior and interior walls. The damage can sometimes be irreparable and needs the attention of a professional who knows what to look for.
A sudden increase in the water bill. If you notice a spike in your utility bill without and extra water use, usually an indication of a water leak. If you're not able to locate the source, is in your best interest to invest in a professional leak detection service.
If you suspect a water leak in your home, it is crucial to take action. Waiting will just make the situation worse. don't hesitate to contact the Leak Doctor. We use special sound equipment to locate a water leak without disrupting or damaging your home.
Superior Result
Leak Doctor's winning combination of commitment to exceptional customer service, state of the art technology, experienced and highly trained technicians ensures the best possible results and outstanding customer service. We have cost-effective ways to find the source of your leak and quickly fix it.
If you suspect a water leak in your residential home or business, contact the Leak Doctor for an appointment.