Locating a leaking water pipe is one of the most common plumbing issues in the Central Florida area. Finding and fixing a water leak may appear easy, which is why many home and business owner attempt to repair the problem themselves.
Unfortunately, this often makes matters worse, just locating the leak without causing damage to your property typically requires professional equipment and specialized training.
Why Call the Central Florida Leak Doctor?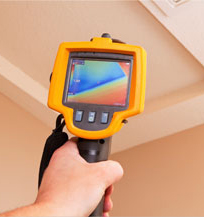 Detecting the Leak
You may notice one of the many warning signs, elevated water bills, signs of water damage, discolored walls, and even mold, but the fact is most leaks occur where you can't see them. The professionals a the Atlanta Leak Doctor have state of the art equipment, listening devices and video pipe inspection, to locate the most difficult leak without any damage to your home or business.
Accessing the Leak
Water leaks are sneaky invaders, the Leak Doctor has over 25 years of experience in tracing the origins of leaks. We pride ourselves with being able to gain access with the least about of invasiveness to your property, family or patrons.
Fixing the Leak
The technicians at the Leak Doctor pledge to leave your property restored to the way it was when we arrived. We will do whatever it takes to make your property look they way it was before, replacing floorboards and filling in drywall.
The Leak Doctor is committed to bringing you unequaled service. We give you the best solution for your water leaks and plumbing situation. Our highly skilled service technicians are committed to continuous training in the art and science of water management.
If you have a home or business in Central Florida it is inevitable you will have a leak, whether you realize it or not! The Central Florida Leak Doctor is just a phone call way!