If you have a water or plumbing leak in your Central Florida home or business, it is just like throwing money down the drain. In fact, it can end up costing you in repairs from the water damage. Not to mention the health issues from the mold. The quicker you find and repair the water leak, the more money you will save!
The first step, do you have a water leak? Look for these signs: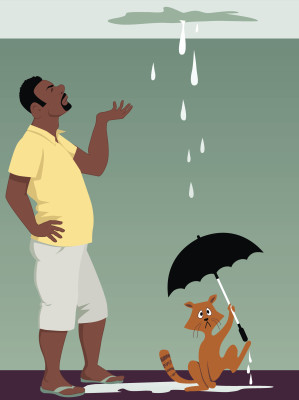 The sound of running water when all appliances and faucets are turned off
An unexpected increase in your water bill
A musty odor
Warm spots on the floor
Unexplained puddles or wet areas in the yard
Loose tiles or peeling wallpaper
Look for the source of the water leak. Typically, they are under the sinks or in the laundry room.
Step two, if you can't locate the source of the leak, contact a professional.
A professional leak detection service, such as the Leak Doctor will have the latest technology to locate any type of leak. Without needlessly digging into walls or floors. The sooner you find and repair the leak, the more money you will end up saving.
Step three, Stay vigilant
It is important to regularly check your home or business for water leaks. Water pipes don't last forever. Over time the chemicals in the water can cause pipes to rust and create pinhole leaks. Behind every water leak, no matter how small, lurks other issues such as mold and mildew, without anyone realizing and the consequences can be devastating.
With over 25 years of experience, the Leak Doctor services are accurate and non-invasive, saving you money you would otherwise spend digging up and repairing your property looking for leaks. With an expert team of qualified professionals who have the latest training to locate hard to find hard to find leaks and ensures a quick response to emergency situations.
Contact the Leak Doctor for more information and an appointment.