You may suspect a small plumbing leak, but really, how much damage can it cause? It's just a few drops of water. But the fact is, that pinhole water leak can end up costing you a small fortune in repairs, as well as, end up wasting thousands of gallons of water.
Be Proactive and look for some warning signs that you may have a water leak: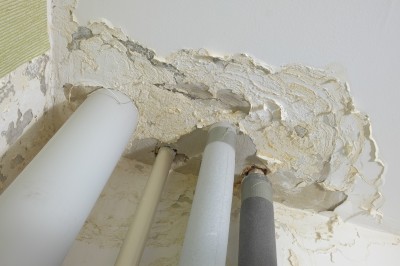 Water stains, whether it's a stain in the ceiling, walls, cabinets, or flooring, it's a sure-fire way to know something is leaking.
Peeling wallpaper, blistering paint or warping walls, are an indication of a leak.
Any moisture or wet spots under the bathroom and kitchen cabinets.
A musty or wet smell.
Walk around the yard and look for any wet or mushy spots.
Warm or wet spots on the floor, broken tiles or uneven flooring.
Higher than usual water bill, check with the neighbors and ask them how much their water bill usually runs.
Drop in water pressure, the sound of running water when everything is turned off or any unusual sounds.
Any wet or moist areas around the toilet
Your pool is losing more water than normal, use the bucket test to determine how much water you're losing.
Do Something About it
The longer you put it off, the more it will cost you. The Leak Doctor offers advanced technology, including frequency sensitive computers, specialized listening equipment, ground probes and other state-of-the-art electronic devices to find water leaks. We have cost-effective ways to find the source of your leak and quickly fix it.
Save in the Long Run
Simple leaks can quickly turn into costly problems, often times we don't notice the problem until it's too late. It's important to stay up to date and vigilant with your homes or business maintenance.
Contact the Leak Doctor for more information and to make an appointment.